Release 12.1 New Features

Associate pictures with your:
Doors
Inside Profiles
Outside Profiles
Panel Profiles
---
Multiple Simultaneous Exports for your computer controlled Machinery! View How-to Video
With the proliferation of computer controlled shop equipment comes the need to feed these hungry guys... If you have to stand there and type in the quantiy, size, material or profiles into computer controlled equipment what is the point of having the computer? Well if you're a Door Manufacturer with Doorlister, your options have just jumped many fold.
Once an order is in Doorlister, you can quickly and easily send out Door infomation in formats that your machinery controlling software can "Understand". Eliminate double (and triple) data entry with Doorlisters enhanced export capability. Use Doorlister's standard exports or contact Hammond and have us develop a custom export for you equipment.
To see a list of Built-In "out of the box" exports, visit www.Doorlister.com/manual. Once there Click on Exporting to Equipment, then Export Examples.
---
You now have to ability to not only save, but also to Email Customer reports directly from Doorlitser® and Drawerlister™.
Need to Email and Acknowledgement or a Price Quotation immediately to your customer? You can now to that instantly and in the format that more computer users can read than any other, the now ubiquitous Adobe® Acrobat PDF format.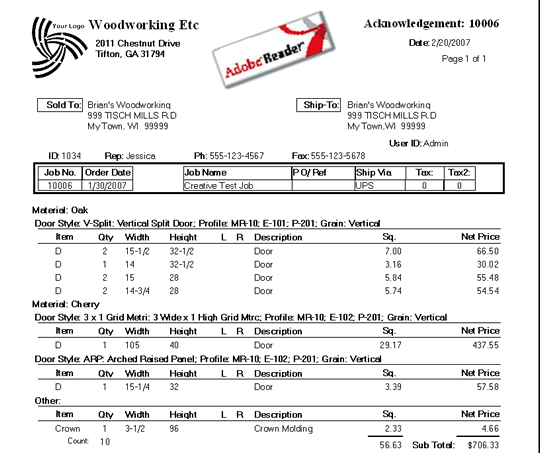 Do you have a remote door or drawer facility and need to Email Shop Reports or cutting lists? You can easily do that also.