Drawerlister™ allows you to enter Drawer Box and Pull-Out Tray orders. You simply select your customer, material, type of drawer box and options and you are ready to put in the sizes.
Invoices, Packing lists and shop cutting lists are all available immediately and automatically once an order is entered. You may even add extras (Sheets of plywood, Pulls, or whatever...) to Drawer Orders and have them priced in the Invoice.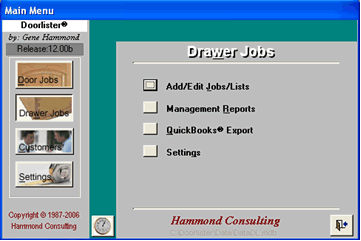 Add/Edit Drawer Jobs/Lists

Using the Drawer Jobs form, you may add and edit existing jobs, print job reports and check the status on your shop floor. Checking status of a job requires you to have Job Tracking Module.




Drawer Job Reports
| | |
| --- | --- |
| Once jobs are entered there are various reports automatically available from the Drawer Jobs Menu. These reports will automatically apply to the job that is selected when the reports Icon is picked. | |
Usint this form you may Select multiple reports for:
Other (Management) Reports
Drawerlister™ has its own set of management reports:
| | |
| --- | --- |
| Report | Description |
| Plant Schedule | Jobs that have not been Invoiced, Grouped by Due Date |
| Bookings Report | Jobs Booked in Date Range. Invoiced/Shipped or not, doesn't matter |
| Drawer Sales Summary | Summary (totals) only of (Invoiced) Sales by Customer: |
| Drawer Sales by Customer | Customer Sales selected by Date Range. |
| Drawer Freight Charge Report | Freight by type, any date range. |
| Drawer Freight by Month Report | Freight by Month, this year only. |
| Finish Report | Finishes by Finish, any date range. |
| Finish by Month Report | Finish by Month, this year only. |
| QuickBooks® Export Report | Jobs exported to QuickBooks® |
Entering Drawer Jobs
To set up a new job, select the New Job Icon in the Drawer Jobs Form. First select a customer (by ID or Name), then enter Job Name, P O, etc. as desired. This is the header information for the job. Once the header Job Information is as desired, you may select the Drawer ID, Materials and Options.
Note: All items below the "Dashed Line" may be changed at any time and will apply to the "Next Drawer Entered".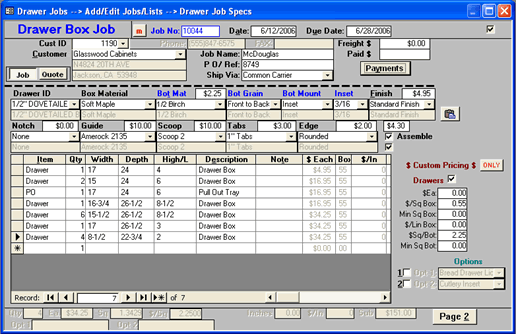 Note: Several options have a price field that automatically changes (based on your settings) when they are picked from the combo boxes (e.g. Bot Material, Finish etc.).